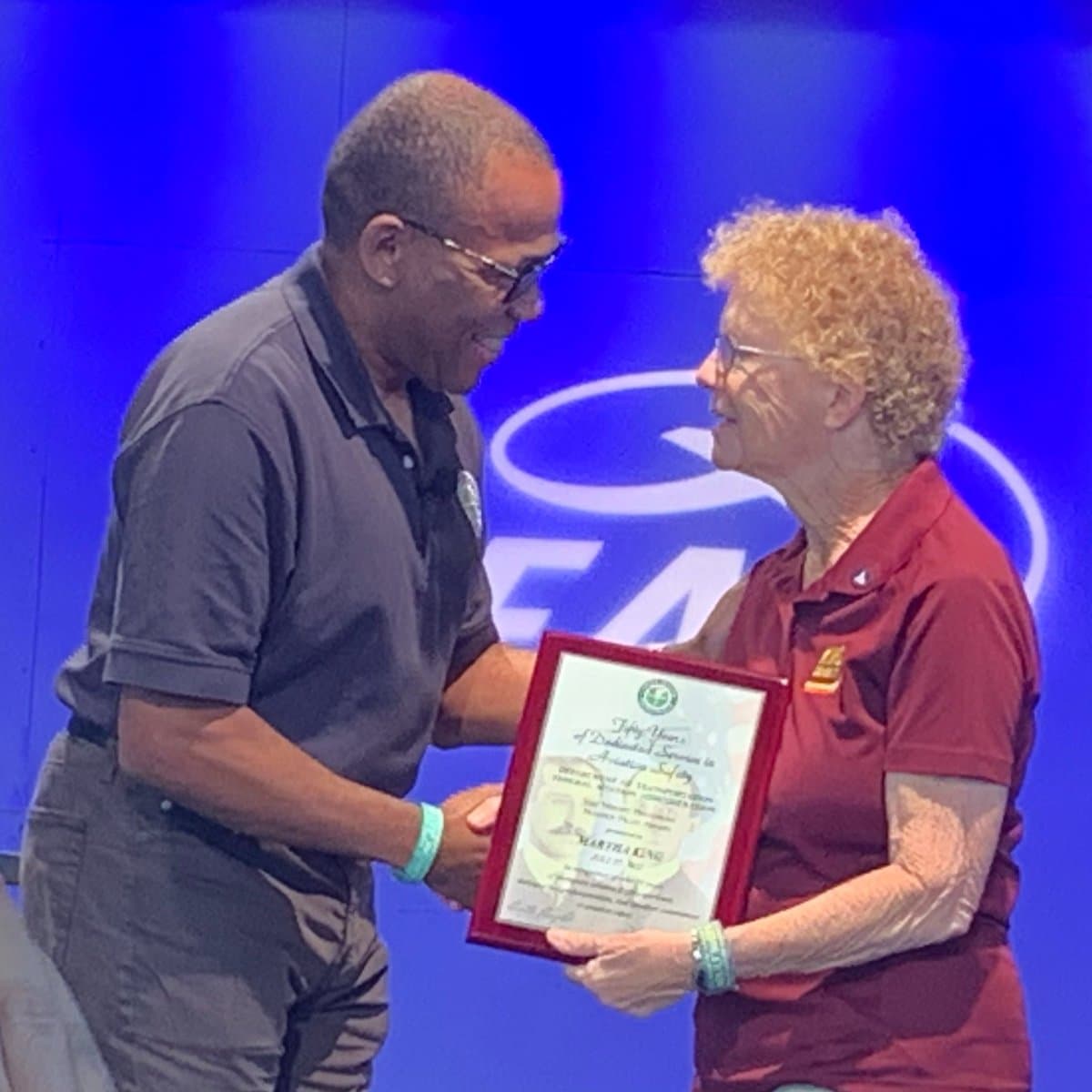 During the 2022 EAA AirVenture Oshkosh, Martha King, one of the co-founders of King Schools, was presented with the FAA's Wright Brothers Master Pilot Award.
Acting FAA Administrator Billy Nolen presented Martha with her commemorative plaque.
"This isn't in my prepared remarks, but I just have to say it," Nolen said during the ceremony. "After thanking Martha, I will say that her tapes are the reason I am standing here. When I became an airline pilot it was the King tapes that I used on my flight engineer written that I had to take and be able to pass. And I used her in my ATP training as well. You are a great contributor to my successful journey and the arc of my career. Thank you again, Martha, for everything you are doing."
In his remarks during a presentation the day before, Aviation Safety Airworthiness FAASTeam Program Manager Ken Kelley noted that "Martha and her fellow Master Pilot John used technology and clear, simple, and fun teaching to make aviation knowledge more accessible to pilots. They have sold more than 700,000 video-based knowledge courses and have had millions of short-subject video views of their 'Take-off' courses."
John received his FAA Master Pilot Award in 2014.
A pilot since 1969, Martha has all seven flight instructor ratings — Airplane Single and Multi-engine, Rotorcraft Helicopter and Gyroplane, Instrument Airplane and Helicopter, Glider — as well as her Advanced and Instrument Ground Instructor ratings. She holds type ratings in the Falcon 10, LearJet, Citation 500, Eclipse 500S, and Citation Mustang 510S.
"As a pilot and a teacher of learning pilots, I have had a meaningful and rewarding life," Martha said. "When you help people fly, you help them towards success not only as a pilot, but in life. You help them develop aptitudes that allow them to more fully enjoy life and be contributors to society."
The Wright Brothers Master Pilot Award is the most prestigious award the FAA issues to pilots certificated under Title 14 of the Code of Federal Regulations (14 CFR) part 61. It recognizes pilots who have exhibited professionalism, skill, and aviation expertise for at least 50 years. The Master Pilots "Roll of Honor" is at FAASafety.gov.